Shanghai Disneyland Castle 上海迪士尼樂園
160613) — SHANGHAI, June 13, 2016 (Xinhua) — The aerial photo taken on June 13, 2016 shows the main venue for the opening ceremony of Shanghai Disney Resort in east China's Shanghai Municipality. A three-day opening ceremony will kick off on June 14 at the resort. (Xinhua/Niu Yixin)(wjq)
(160613) — SHANGHAI, June 13, 2016 (Xinhua) — The aerial photo taken on June 13, 2016 shows the main venue for the opening ceremony of Shanghai Disney Resort in east China's Shanghai Municipality. A three-day opening ceremony will kick off on June 14 at the resort. (Xinhua/Niu Yixin)(wjq)
From: http://disney.wikia.com/wiki/Enchanted_Storybook_Castle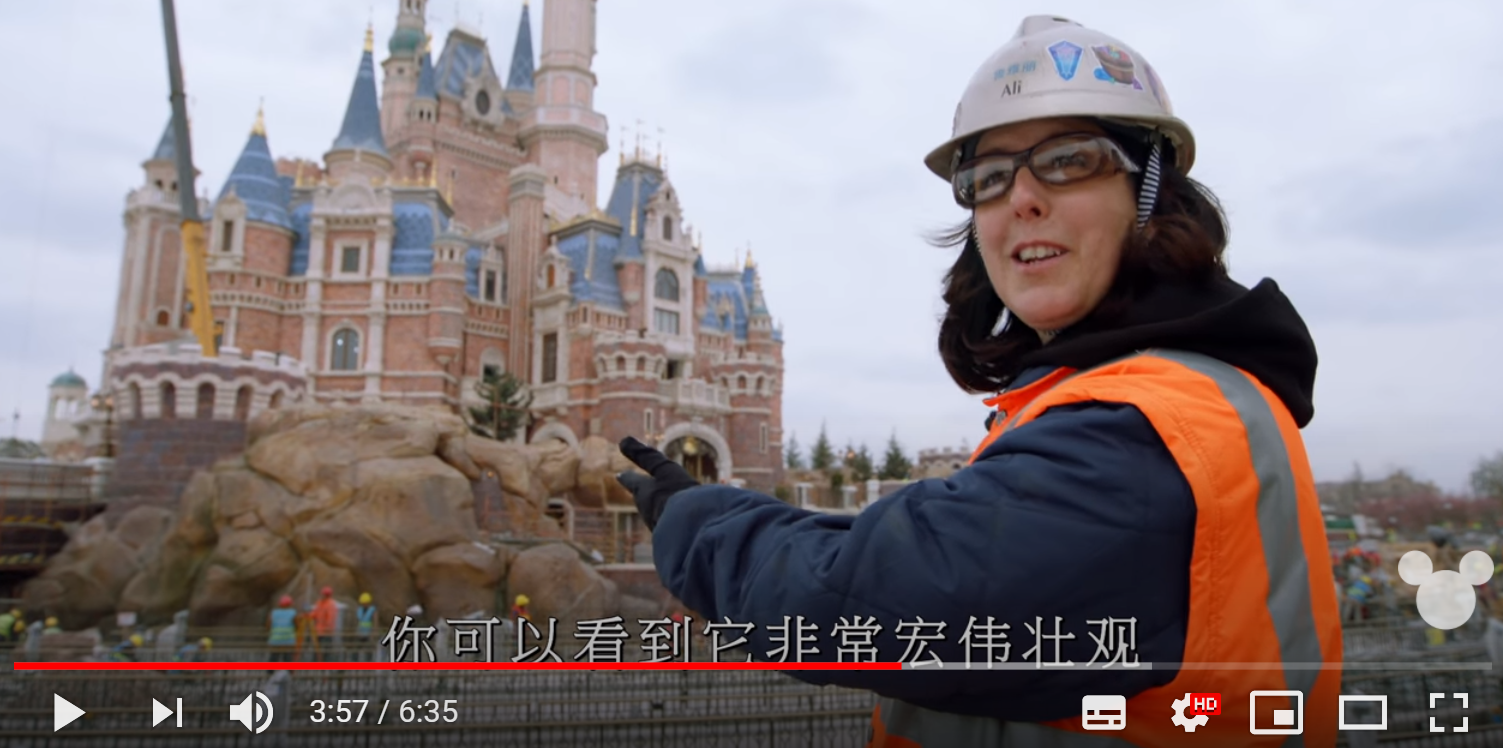 Enchanted Storybook Castle
Being the largest Disney castle ever constructed, Enchanted Storybook Castle houses a variety of functional facilities including a walk-through attraction, a restaurant, a makeover boutique, an elaborate stage, and a boat ride that goes underneath the main level.
In the main hall of the castle are mosaics depicting four Disney Princesses, representing the four seasons. With The Princess and the Frog representing Spring, Tangled representing Summer, Brave for Autumn, and Frozen for Winter. In the center, a golden chandelier cascades down from a regal blue ceiling shaped like a star that resembles a starry night sky. This is also the first castle in a Disney Park to have multiple main entrances from different sides, with elaborate walkways that all meet at the center rotunda.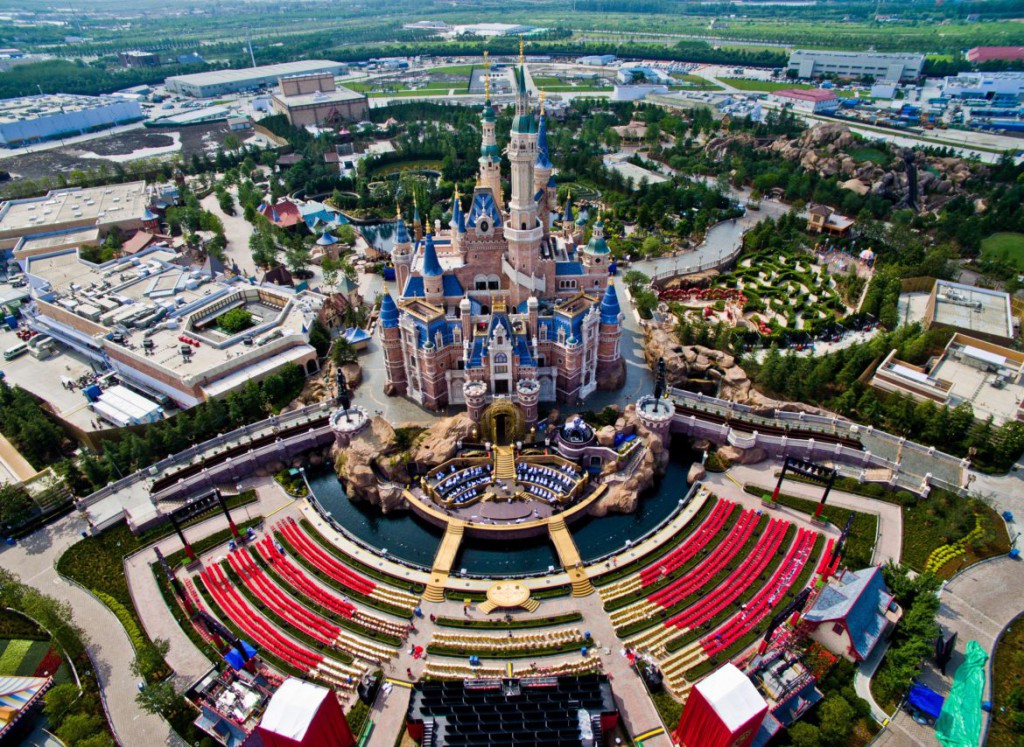 Contrary to Sleeping Beauty Castle, inspired by Germany's medieval Neuschwanstein Castle; Cinderella Castle, which borrowed styles from gothic French architecture; and Le Chateau de la Belle au Bois Dormant's whimsical curves and slender storybook figure; Enchanted Storybook Castle's overall look was inspired by Renaissance architecture. However, its design features numerous details and elements previously used in precedent Disney castles. Designers also incorporated Chinese stylings and decorative elements to appeal to the country's audience. For example, the castle is topped with a golden peony, a flower popular among Chinese traditions. Besides the peony, the castle also bears a great amount of symbolic elements illustrate the partnership and the blending between Disney and Chinese culture.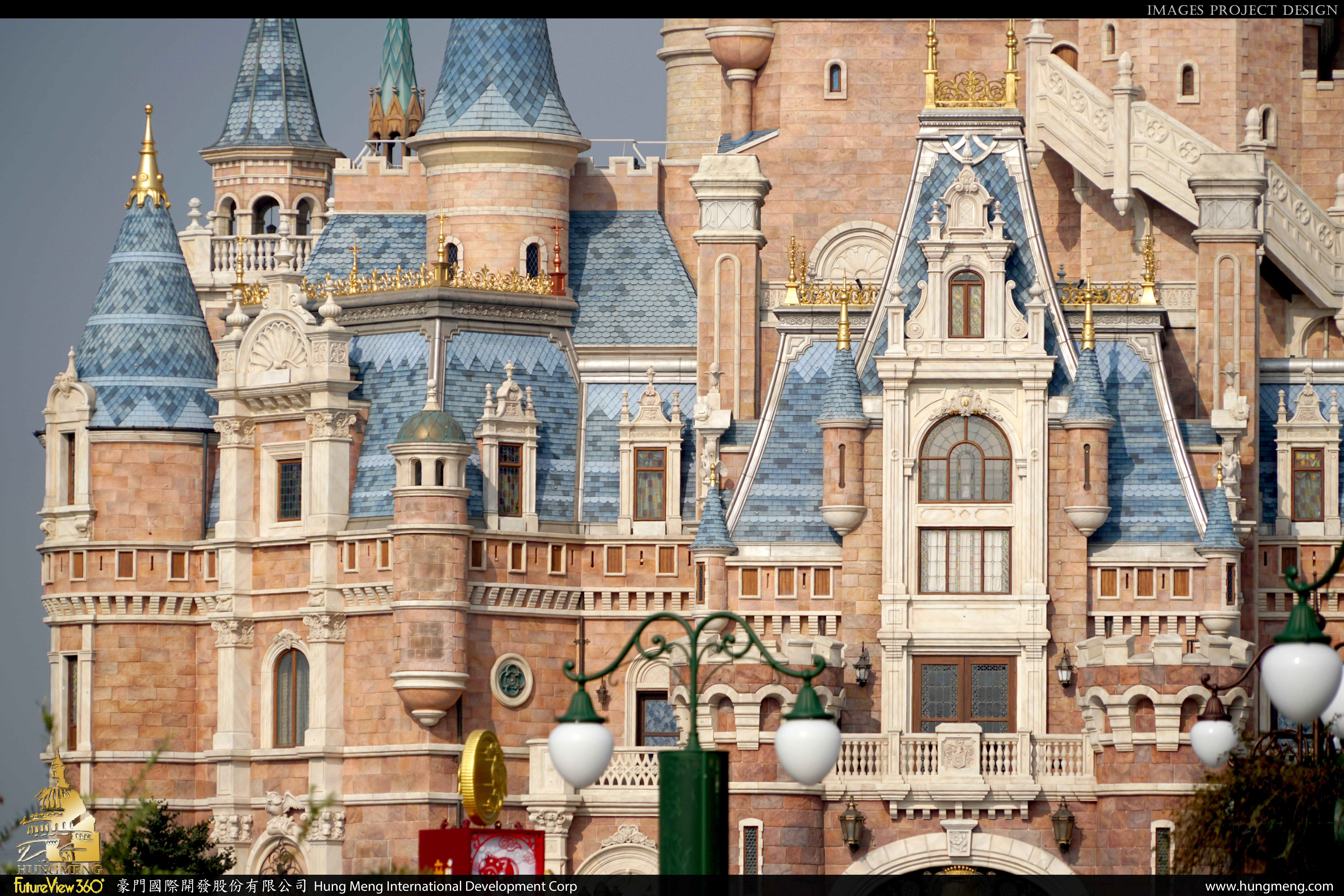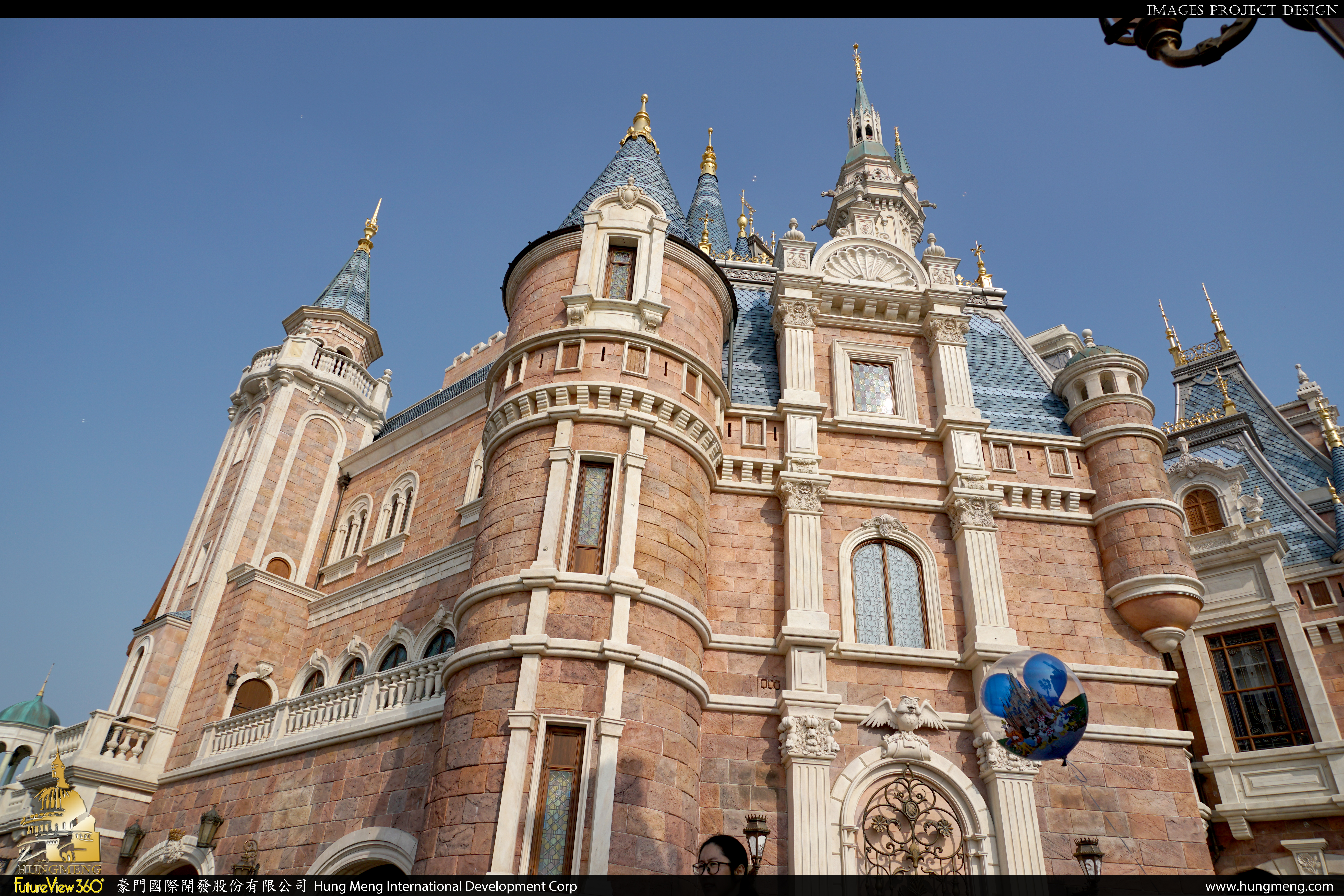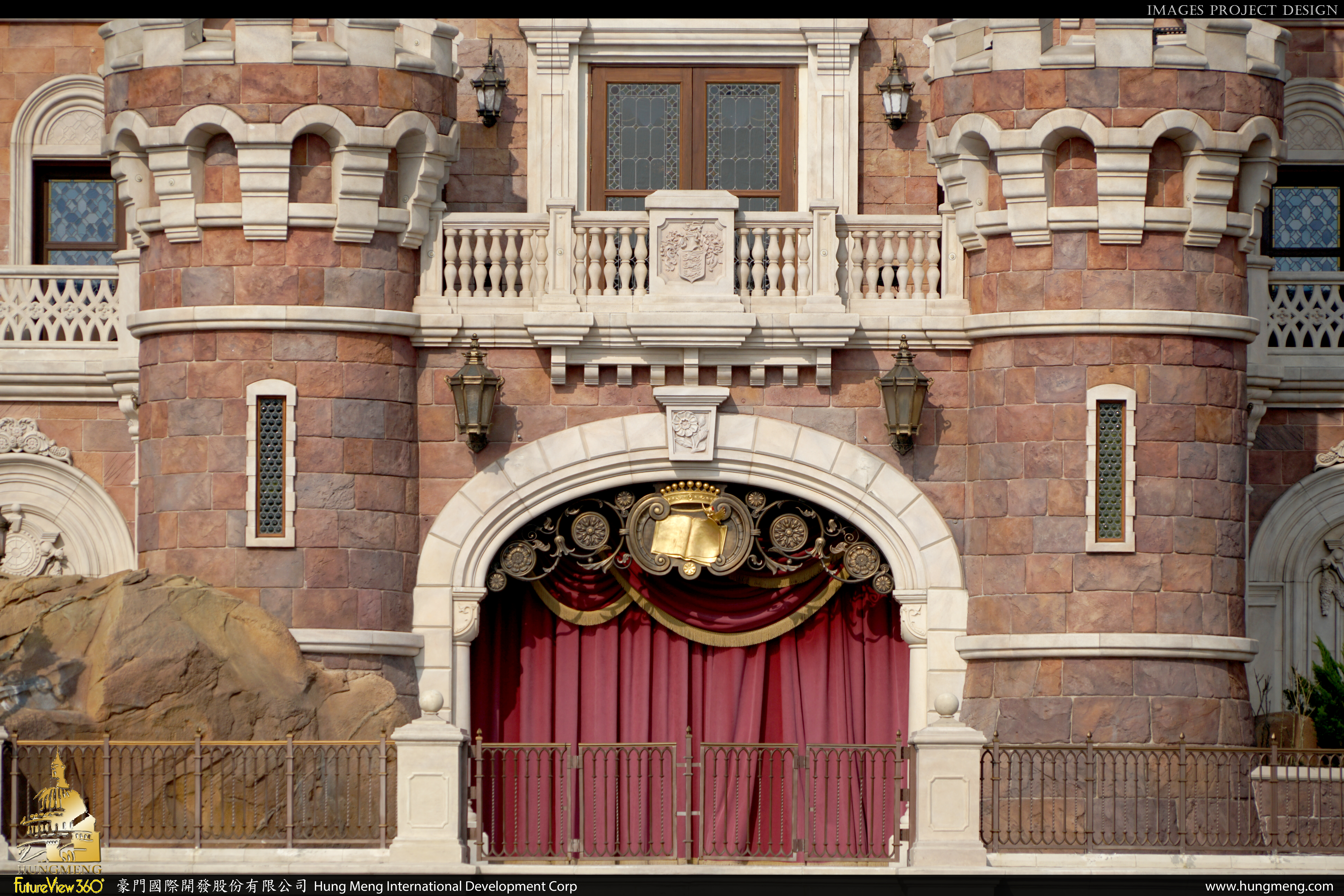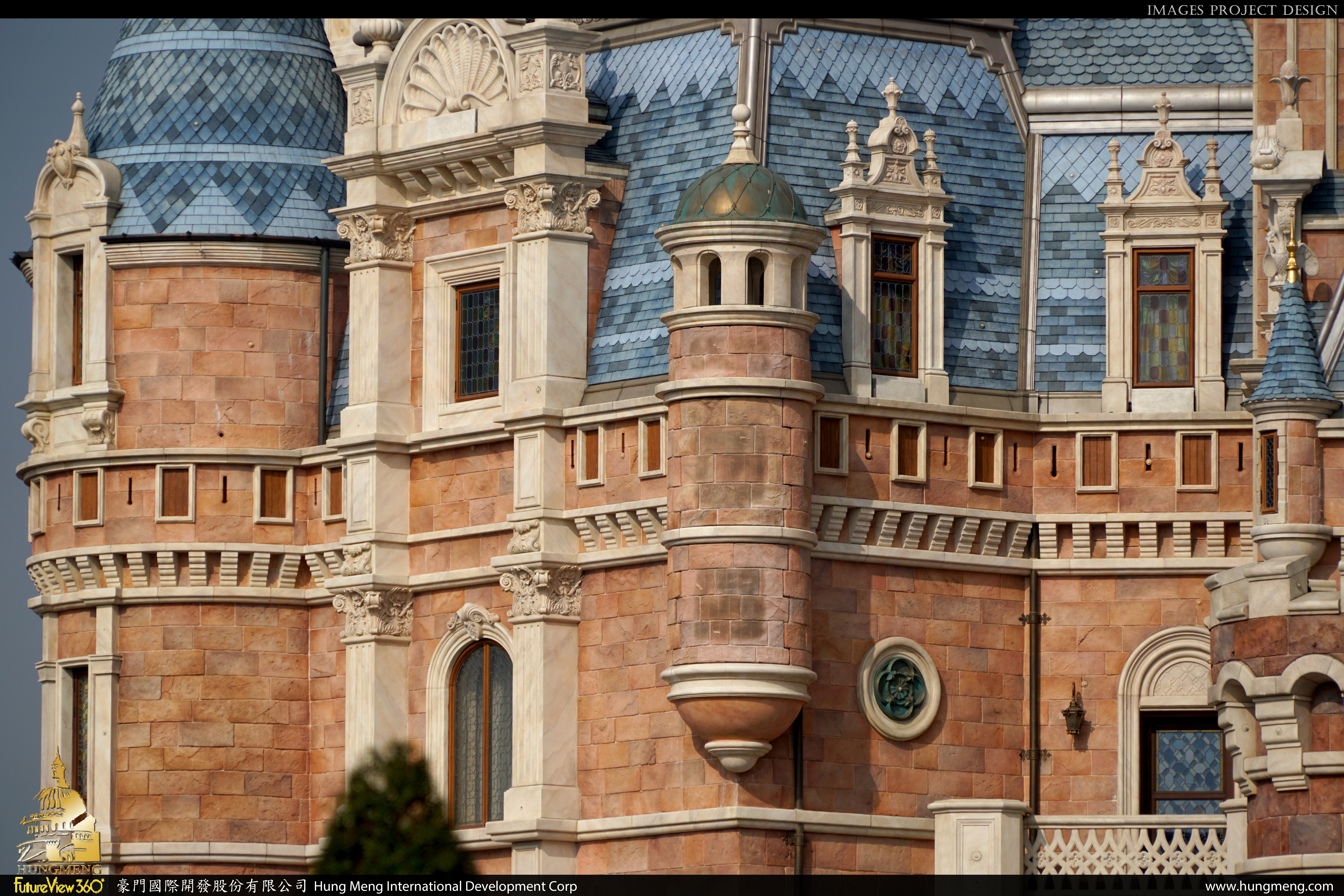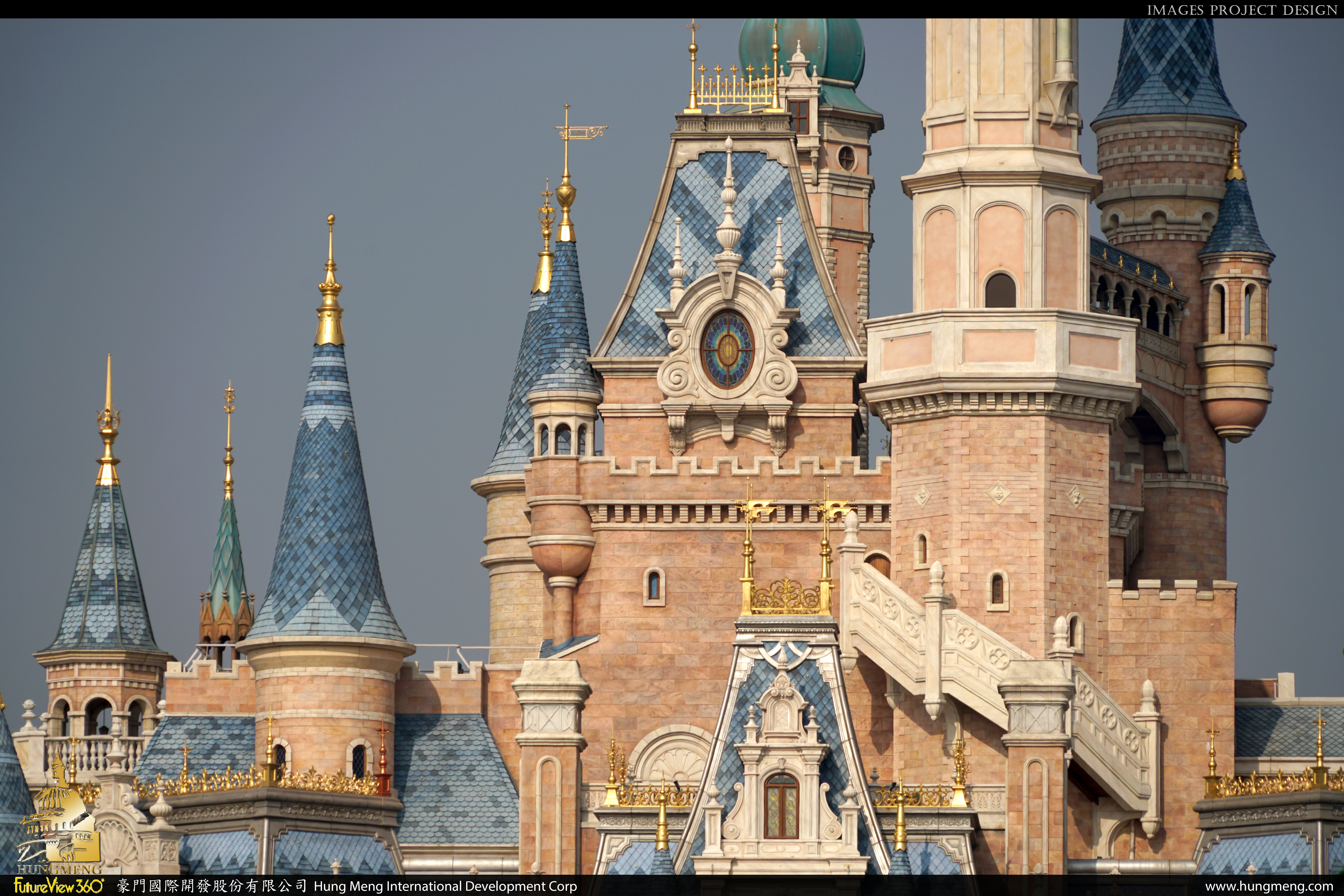 During the designing phase, modern technologies such as 3D computer modeling had to be applied to design and break down the constructional steps for the team. Adding to its gigantic size, the castle is actually built on an elevated platform and can be seen miles away from the park. The platform itself is in fact a gigantic building that houses the boat ride that goes underneath the castle as well as behind the scene facilities.
Shanghai Disneyland is also the very first Disney Park to reinvent the logistics around the castle during the nightly fireworks shows. The launchpads for pyrotechnics from the castle are built to the front, while castle itself is isolated from the rest of Fantasyland's attractions, thus enabling all the rides in the back area that would normally close down in other Disney Parks for the fireworks shows remain fully operational.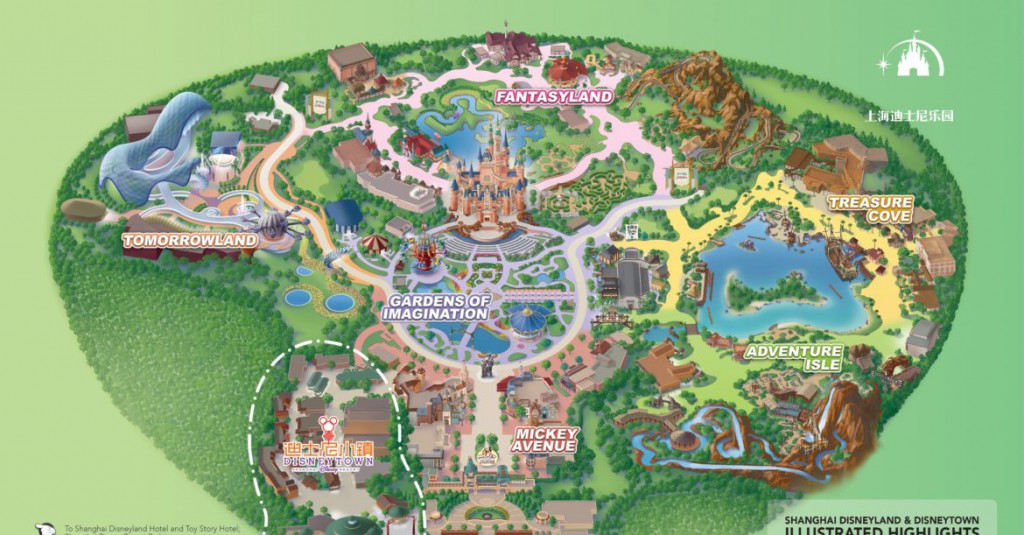 魔法故事書城堡
作為有史以來規模最大的迪士尼城堡,魔法故事城堡擁有各種功能設施,包括步行式景點,餐廳,改裝精品店,精緻的舞台以及位於主層下的乘船遊覽。
在城堡的正殿中,有四個迪斯尼公主,代表著四季的馬賽克。 "公主與青蛙"代表"春","夏,秋,冬"。在中心,一個金色的吊燈從一個富麗的藍色天花板上下來,像星星般的夜空。這也是迪斯尼樂園第一座從不同側面擁有多個主要入口的城堡,精心設計的人行道在圓形大廳的中心相遇。
與被德國中世紀的新天鵝堡(Neuschwanstein Castle)靈感啟發的睡美人城堡(Sleeping Beauty Castle)相比,灰姑娘城堡,從哥特式法式建築中藉用風格;和Le Chateau de la Belle au Bois Dormant的異想天開的曲線和纖細的故事書形象;魔法故事書城堡的整體外觀受到文藝復興時期建築的啟發。然而,其設計具有迪斯尼城堡先前所使用的眾多細節和元素。設計師還融入了中國的風格和裝飾元素,以吸引全國觀眾。例如,城堡上面擺放著一朵盛產中國傳統花朵的金牡丹。除了牡丹之外,城堡裡還蘊含著大量的象徵元素,說明了迪斯尼與中國文化的合作與融合。
在設計階段,必須應用3D計算機建模等現代技術來設計和打破團隊的構建步驟。再加上它的巨大的尺寸,城堡實際上建在一個高架平台上,可以從公園看到數英里。這個平臺本身實際上是一座巨大的建築物,其中包括城堡下面的船隻以及現場設施的後面。
上海迪士尼樂園也是第一個迪斯尼公園,在夜間煙花表演期間重新創造城堡周圍的物流。城堡煙火的發射台建在前面,而城堡本身與幻想世界的其他景點是隔離的,從而使後面區域的所有遊樂設施都能正常關閉,其他迪斯尼公園的煙花表演仍然可以正常運行。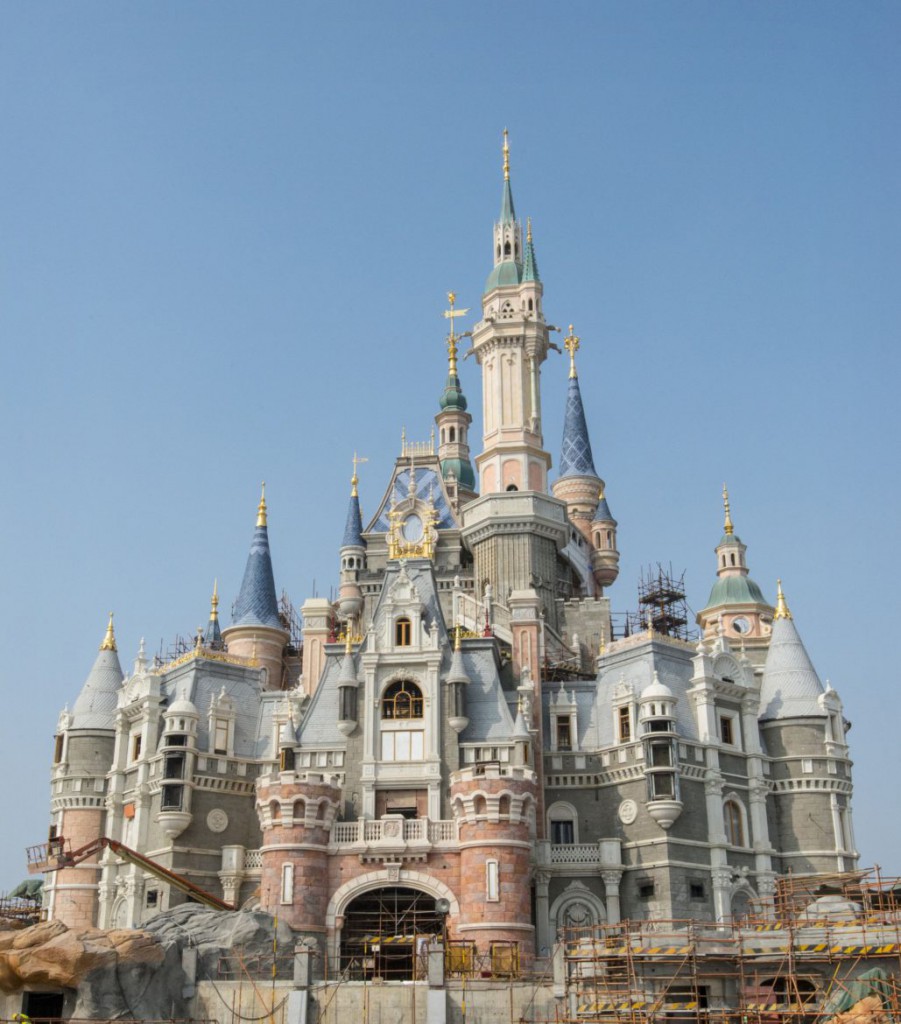 From: https://en.wikipedia.org/wiki/Shanghai_Disneyland_Park
The Chinese government approved the resort on November 4, 2009.The Walt Disney Company announced on November 5, 2010 that they had signed an agreement with Shanghai Shendi Group to build the resort and park in Shanghai, with a planned opening in 2015. On April 7, 2011, groundbreaking began at the Shanghai Disneyland Resort site.On June 29, 2013, construction on the Enchanted Storybook Castle began.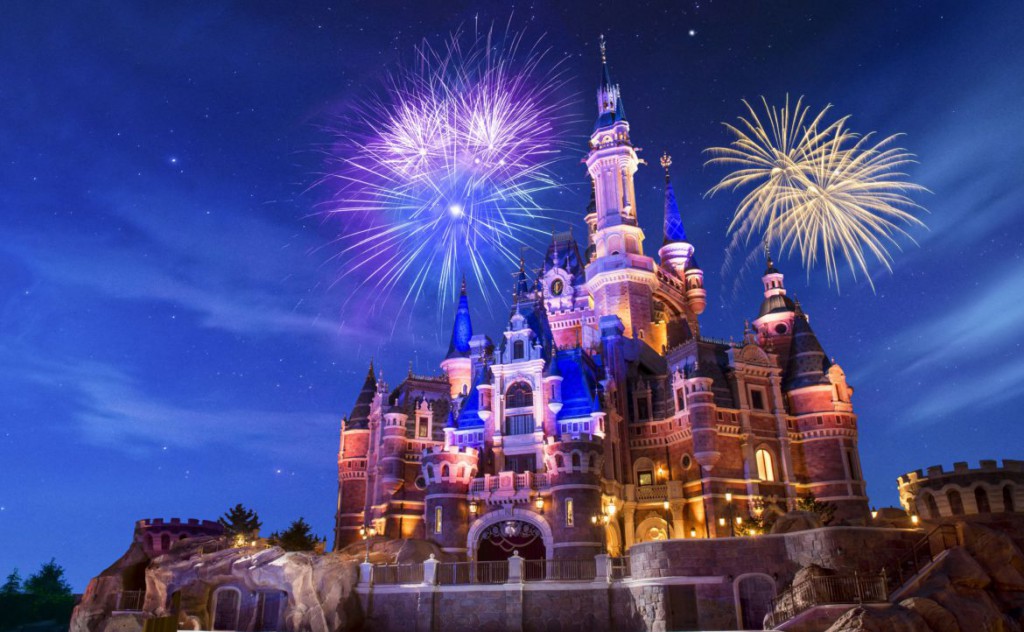 A satellite view of the resort in 2015.
On March 8, 2013, the company announced that the park would open in late 2015.[6] On February 2, 2015, the opening date was pushed back to early 2016.[10] On January 12, 2016, the park's opening date was announced as June 16, 2016.[2] According to some reports, this was due to construction delays and quality control problems. The final opening date is June 16, 2016.
The cost was initially estimated at 24.5 billion yuan (USD $3.7 billion) for the theme park and an additional 4.5 billion yuan (USD $700 million).[6] This rose to around USD $5.5 billion before delays,which was due in part to additions to the number of attractions open to the public on opening day, which added USD $800 million to the cost.The added cost doesn't take into account lost revenue from the lost admissions fees.
In addition to the attractions and two hotels, the company is building a high-speed rail system to get visitors to and from the site.
Disney owns 43% of the property while the state-controlled Shanghai Shendi Group owns the remaining 57%.
On May 7, 2016, Shanghai Disneyland Park had started soft openings.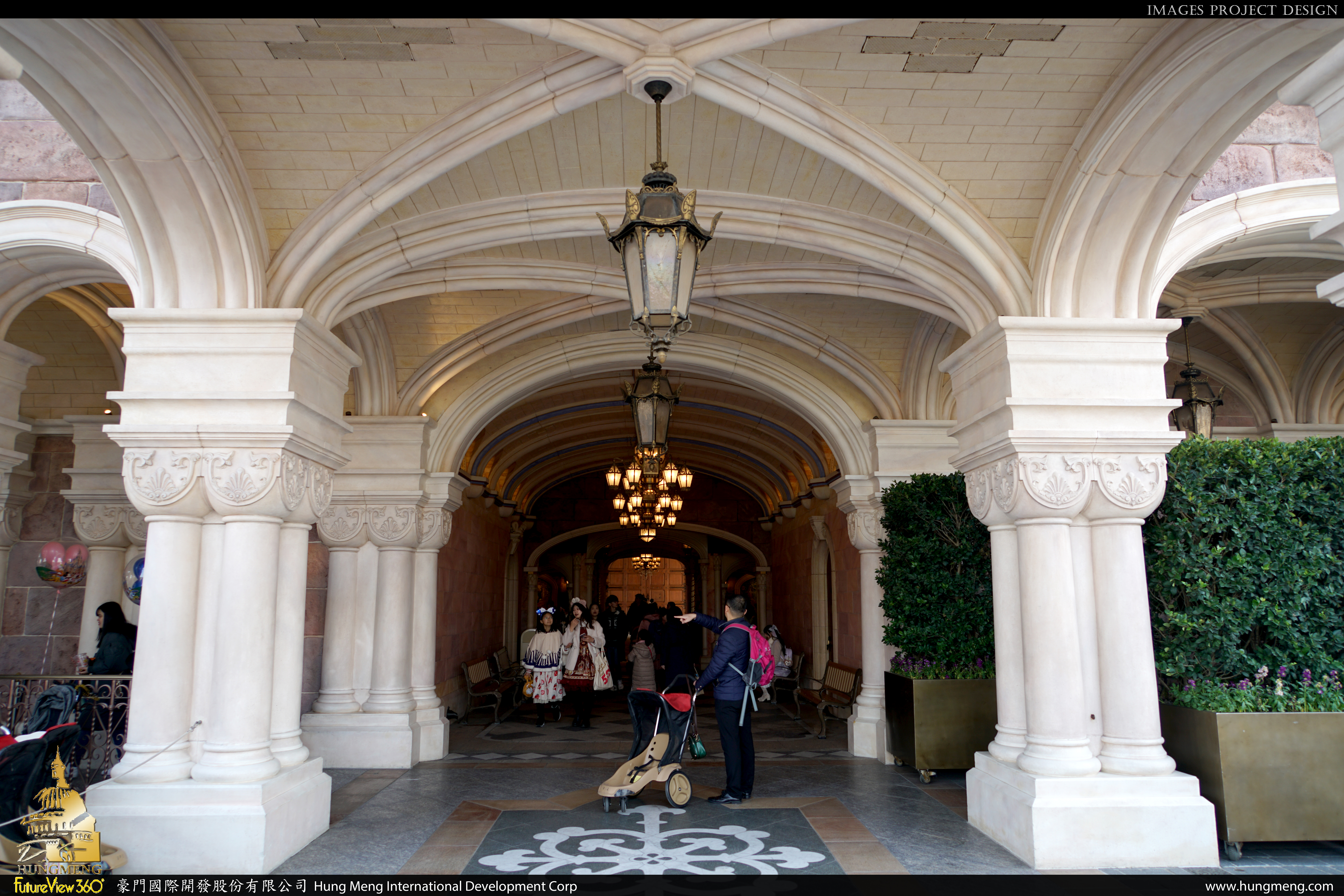 Disney aired the live broadcast of the grand opening show on its Facebook page on the night of June 15, 2016. Bob Iger, Chairman and Chief Executive Officer of The Walt Disney Company was joined by nearly 3,000 distinguished guests and celebrities for a showcase of choreography, acrobatics, costumes and technology in grand scale, with dazzling lights, Disney music, pageantry, special effects and fireworks. The show featured world-renowned pianist Lang Lang who performed a custom arrangement of the musical sensation "Let It Go" (from Disney's "Frozen") and China's television and movie superstar Sun Li who took center stage. The historic event included the debut of an original song, "Ignite the Dreamer Within," written especially for the grand opening of Shanghai Disneyland. Acclaimed composer and conductor Tan Dun, widely known for his stirring scores for the films "Crouching Tiger, Hidden Dragon" and "Hero," led the Shanghai Symphony with an original composition of the new song.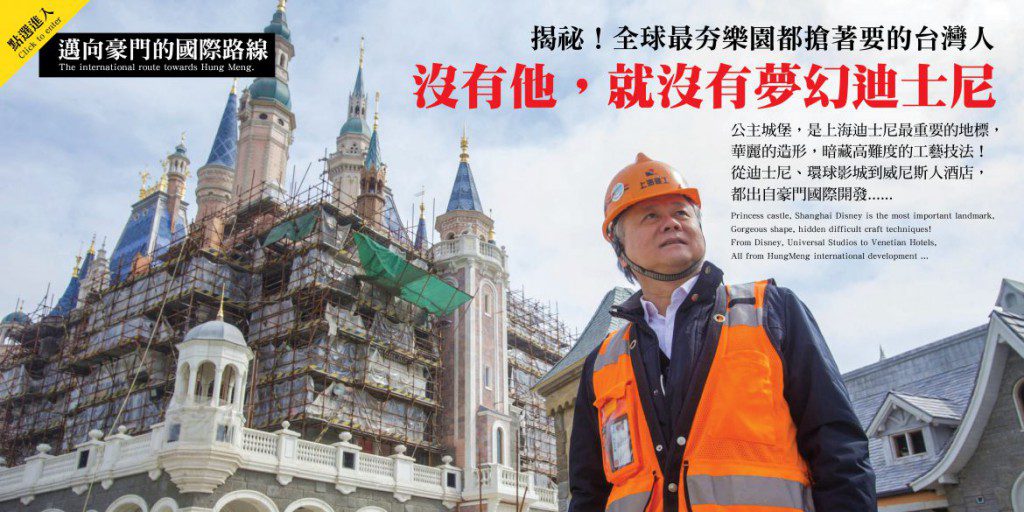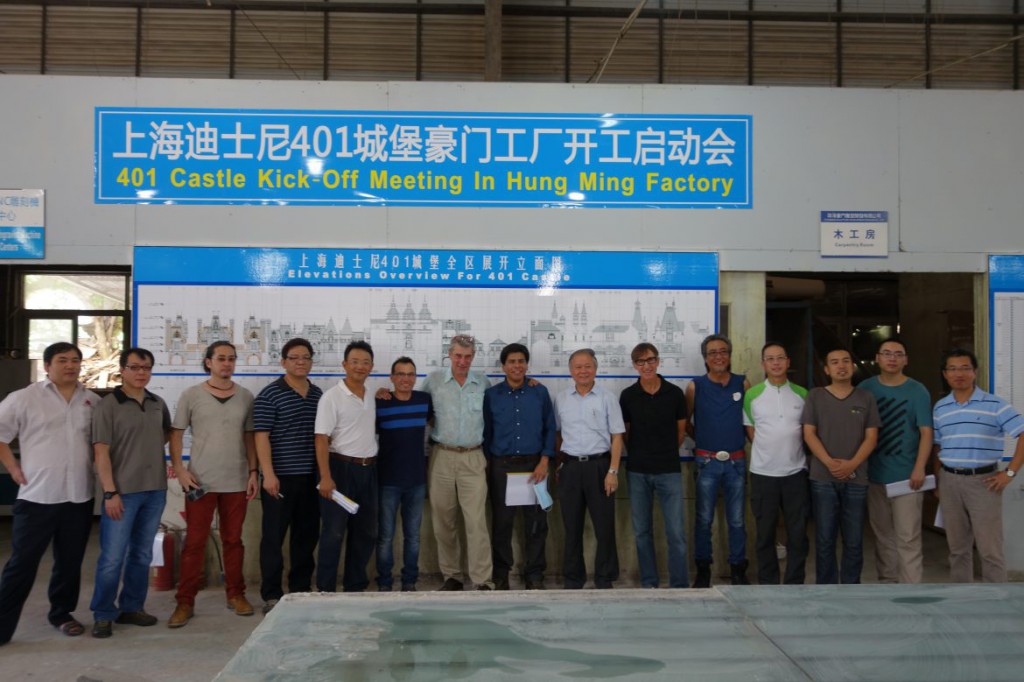 Ticket pricing
Tickets for the park went on sale on March 28, 2016, with a two-tiered pricing scheme.[16] On most days, one day adult tickets will be CN¥ 370, while child and elderly one day tickets will cost CN¥ 280, roughly 20% cheaper than Hong Kong Disneyland (which charges HK$539 for a one-day adult ticket).During busier periods, including the first two weeks of the park's operation, adult one day tickets will cost CN¥ 499, while child and elderly tickets will cost CN¥ 375. The park will be the first Disney park to feature tiered pricing.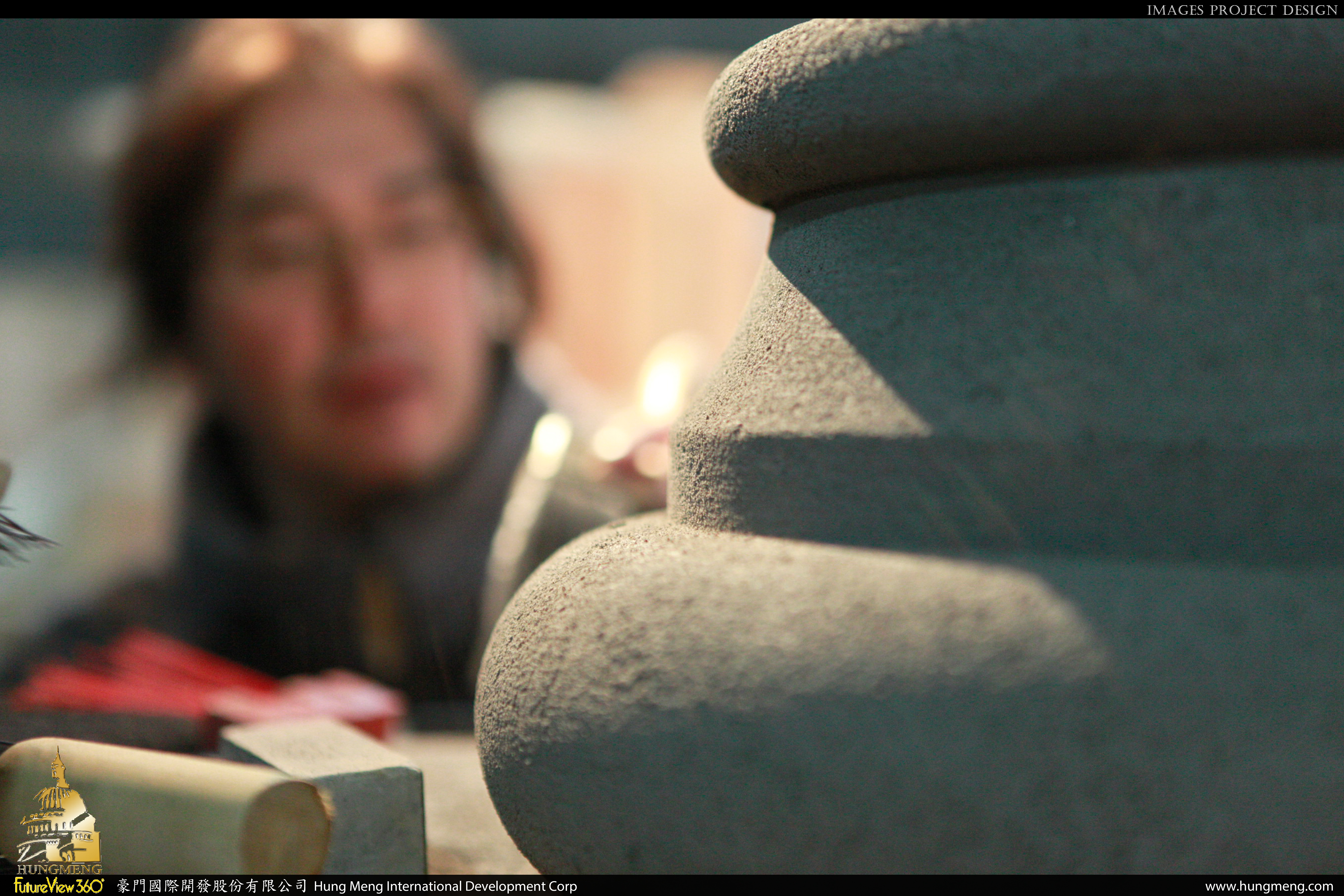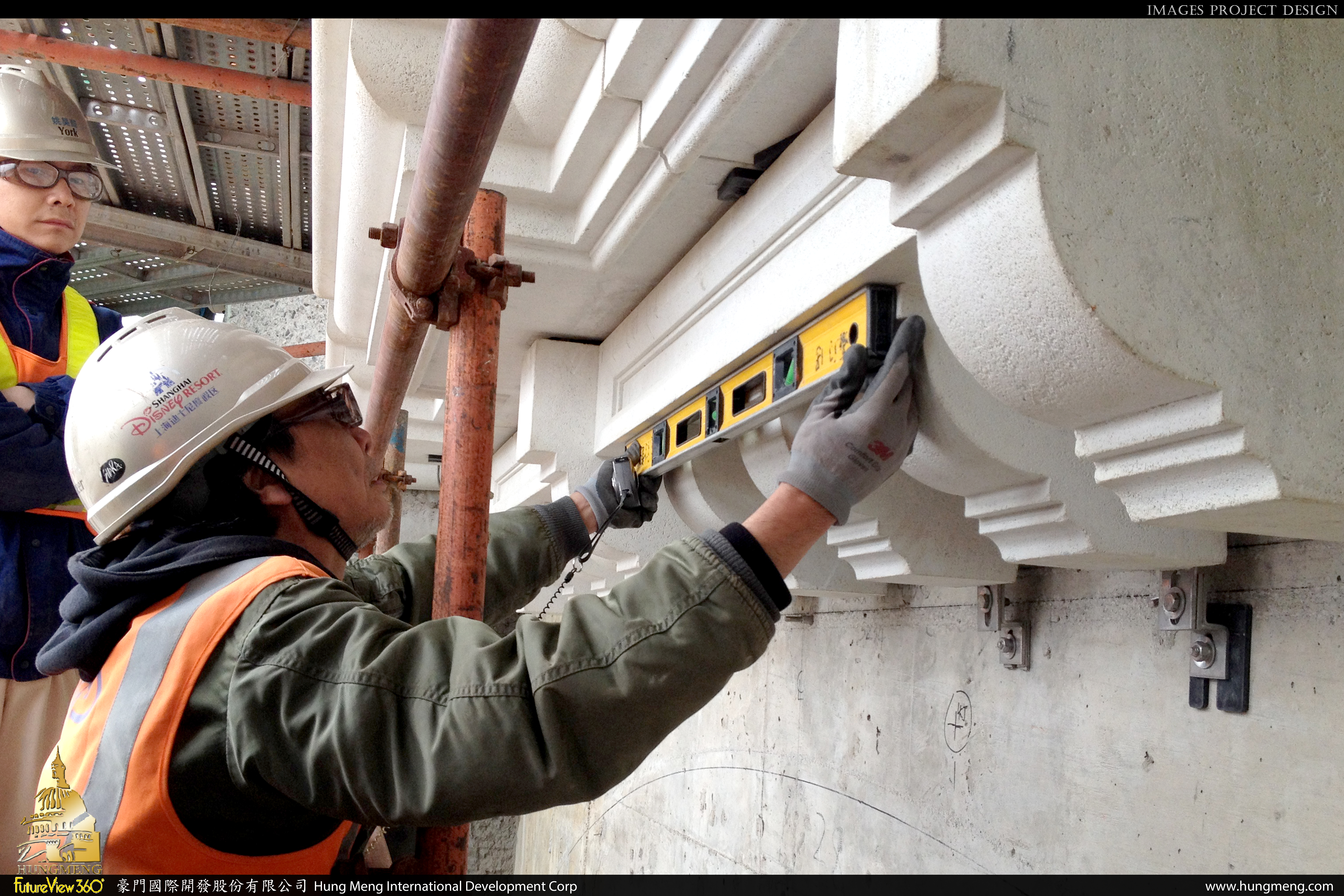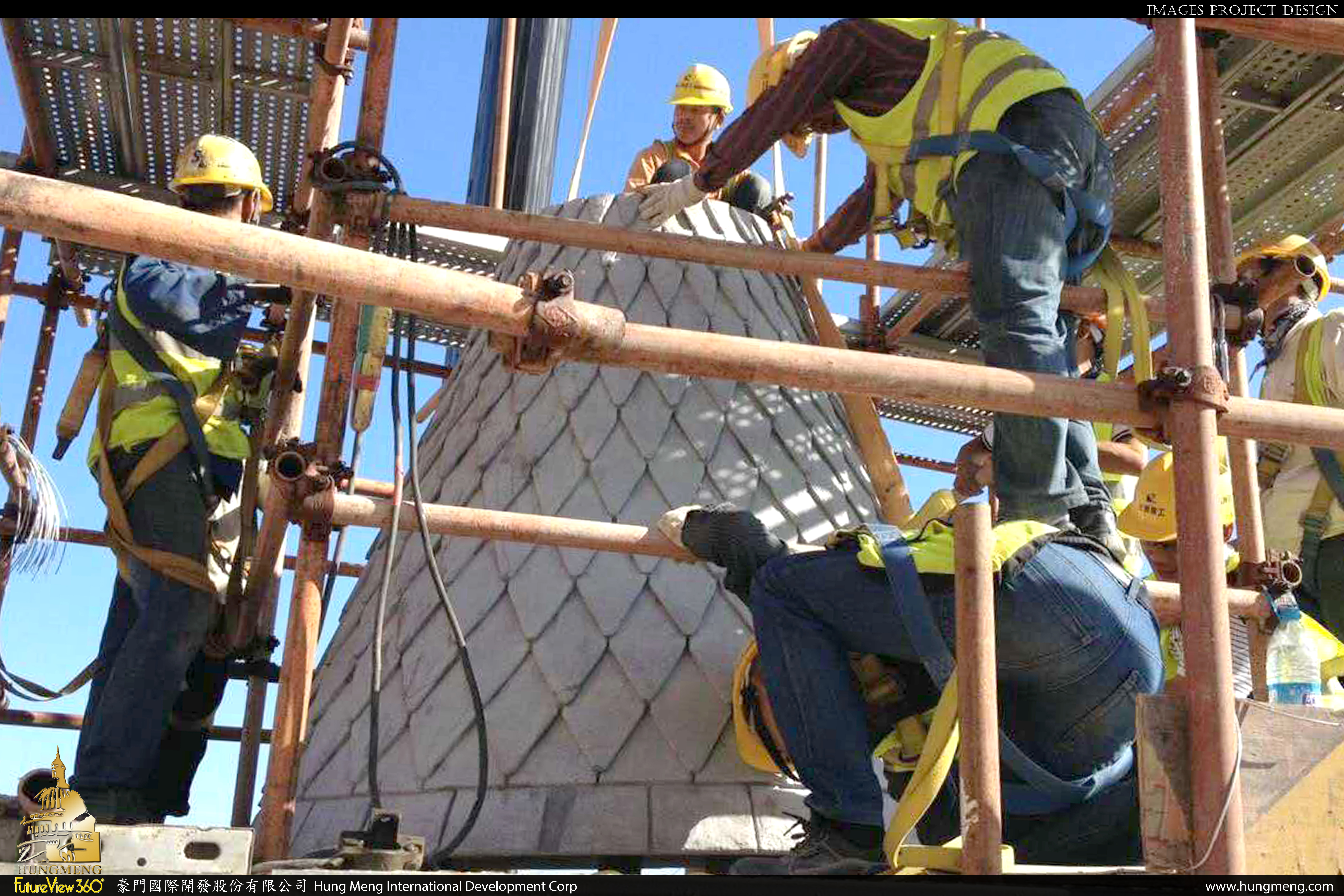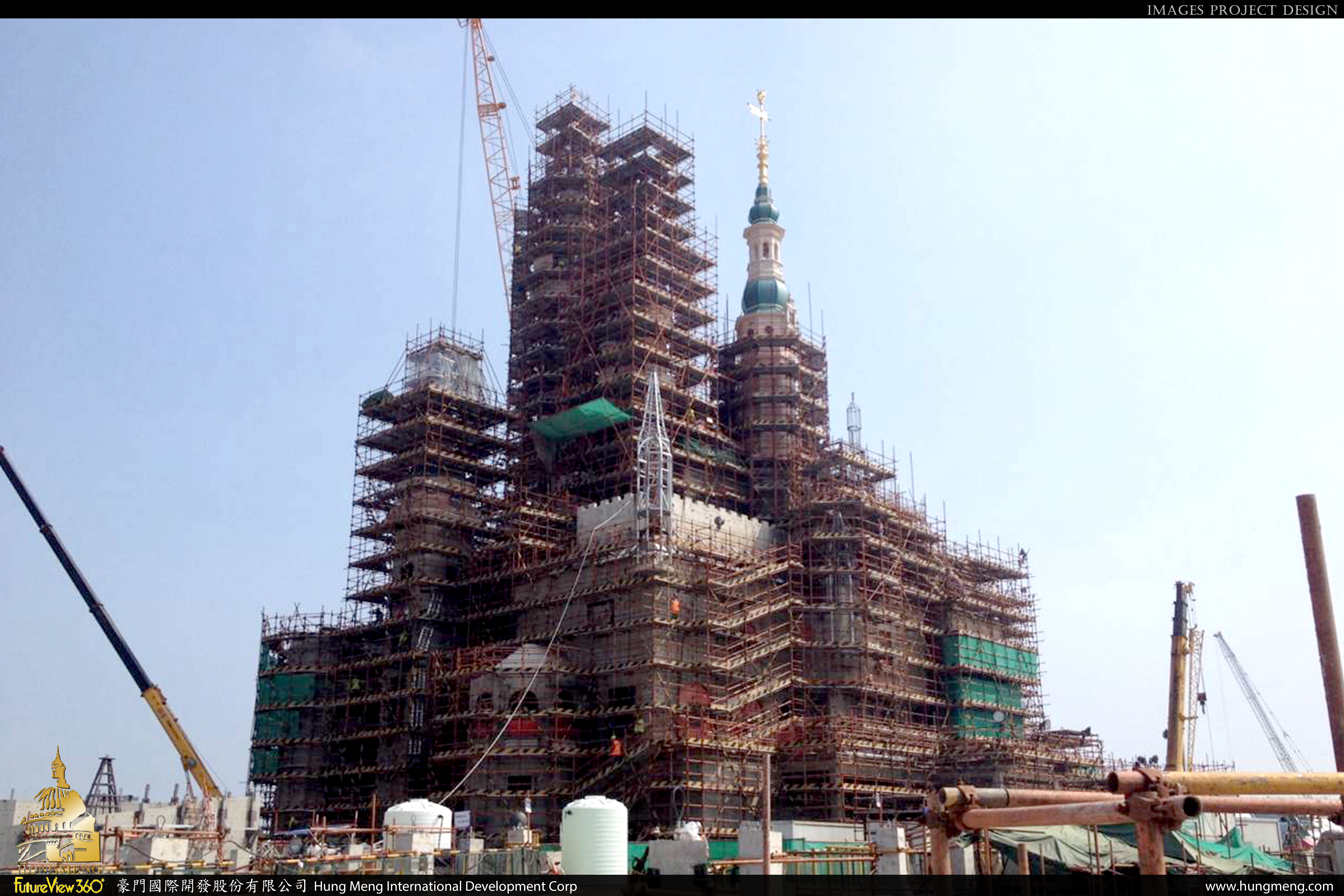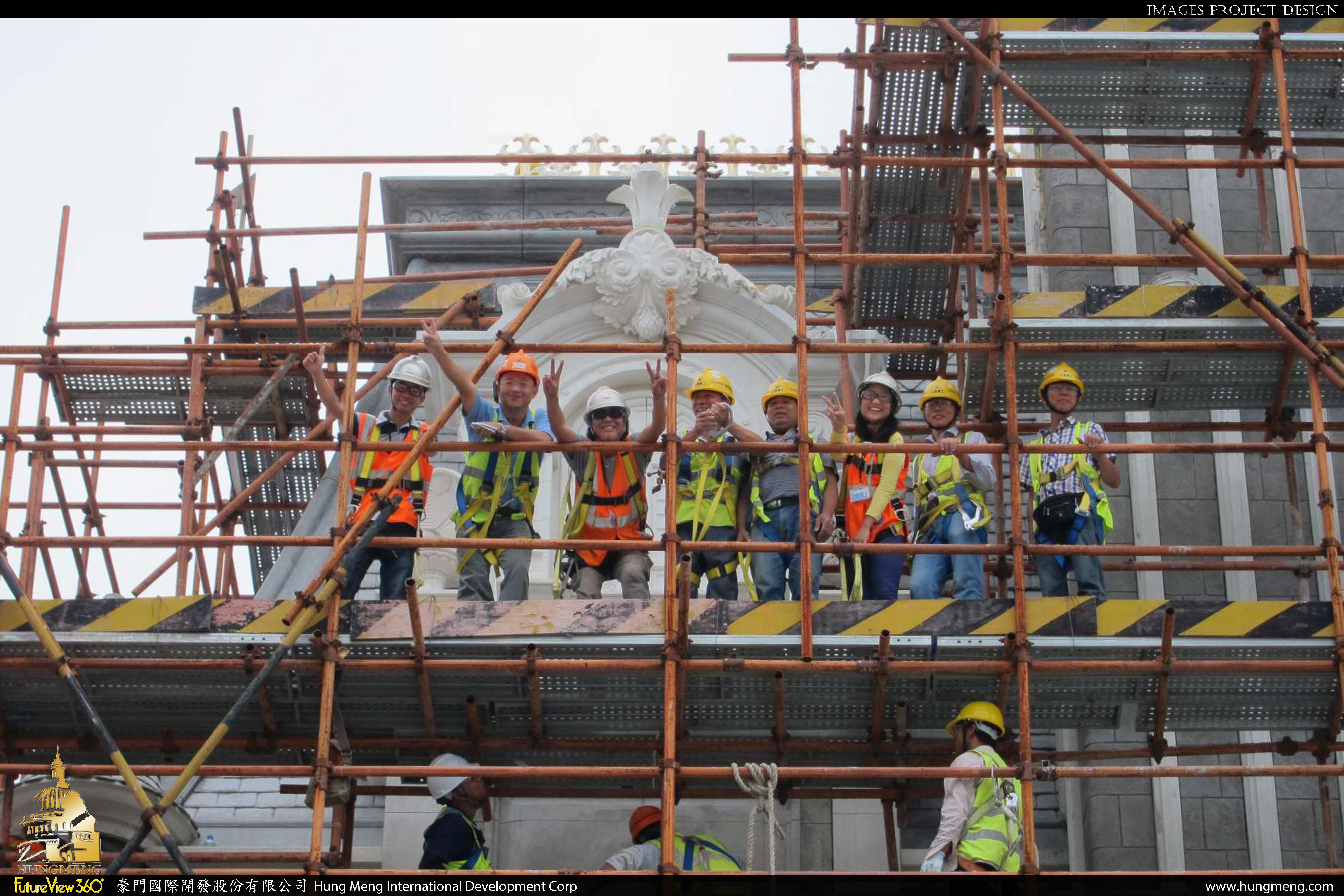 According to the International Business Times (IBT), the US dollar equivalent of park ticket pricing will cost about $75 for adults and $60 for children on holidays and weekends, and around $60 for adults and $45 for children on weekdays. IBT notes that "a two-day weekend ticket for two adults and one child comes close to China's average urban monthly wage."
Opening day tickets sold out in a few hours after going on sale at midnight, March 28. However, more tickets were put on sale several days before the official opening day.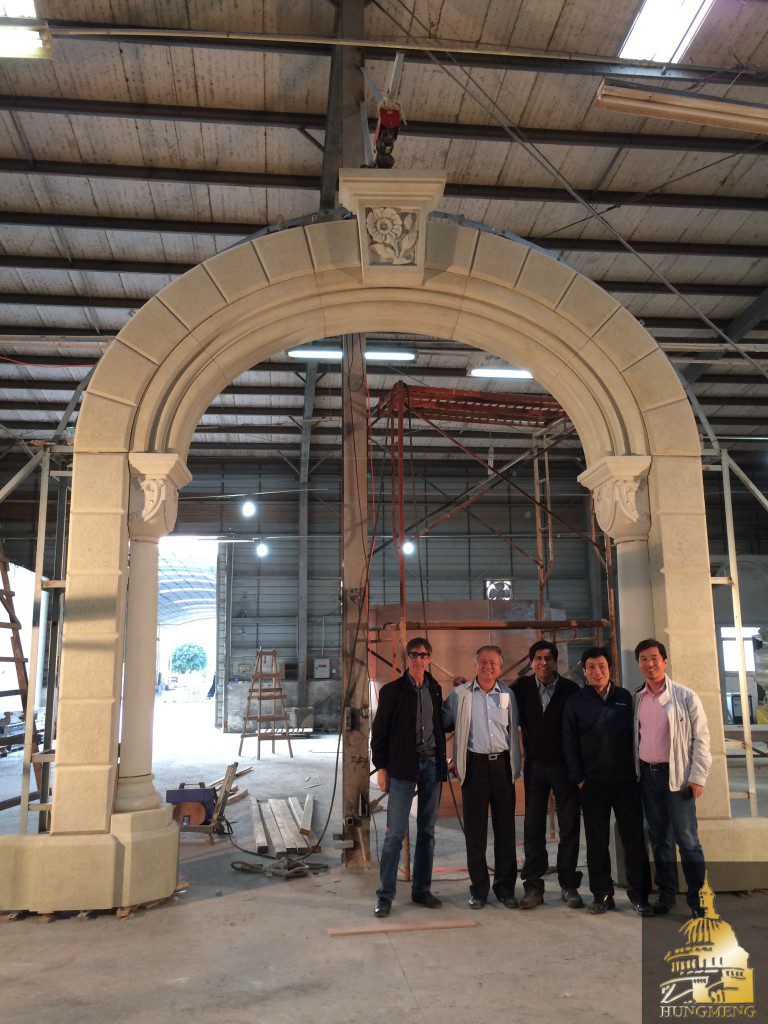 2005年,會於2008年,興建一個稱為「上海迪士尼樂園」的主題樂園,於2012年興建完成。根據香港國際主題公園有限公司行政總裁安明智向傳媒表示,暫時無計劃建設上海迪士尼度假區。
2007年12月5日,中評社報道,上海迪士尼度假區將會於2010年世博會後開工建設,投資金額為400億元。
2008年3月7日,《明報》報道,上海申請興建迪士尼的首選地址為浦東。
2009年11月1日:時任上海市市長韓正出席第21屆上海市市長國際企業家諮詢會期間,就媒體提問時表示:「上海市政府會在近期專門召開一個新聞發布會,發布最新的情況和回答大家的問題。」有指上海樂園項目於2009年10月獲批,但是因為上海市政府作風低調,加上雙方尚有合作細節需要微調,以及需要更改4個條例,故此需要等待至完全確定後方才公布。而美國總統巴拉克·歐巴馬於11月15日至18日訪華,期間將會參觀訪問上海,並且見證建園計劃。
2009年11月4日上午8時30分,上海市政府新聞辦公室授權宣布:上海迪士尼項目申請報告已經獲國家有關部門核准,預計總投資244億元人民幣。
2009年11月23日,中國國家發展改革委員會在官方網站公告,正式批覆核准上海迪士尼樂園項目。具體為由S1上海迎賓高速、S2上海滬蘆高速、周祝公路及南六公路所組成的範圍內,最早於2014年開園。
2010年11月5日,華特迪士尼公司與上海申迪集團簽署上海迪士尼樂園項目合作協議,雙方就具體合作事項達成共識,標誌著上海迪士尼項目正式啟動。
2011年4月8日,上海迪士尼樂園正式動土,預計興建時間為4年。
2012年1月31日,媒體報道,樂園將有6大主題區。
2013年3月7日,上海迪士尼度假區管理公司在股東大會上,首次發布上海迪士尼度假區的整體概念圖,包括主題樂園中央佔地11公頃的綠草地及為全球最高、樓高4層的奇幻童話城堡(Enchanted Storybook Castle)等景點。華特迪士尼主席兼任行政總裁羅伯特.艾格表示,上海迪士尼度假區具有中國特色,同時為最正宗的迪士尼度假區。首次曝光的4張設計圖展示以神奇王國(Magic Kingdom)為藍圖的上海迪士尼度假區,捨棄每座迪士尼樂園必備的美國小鎮大街,而在樂園中間建設佔地11公頃的花園,巡遊隊伍將會在此表演。
2013年10月17日,上海迪士尼樂園首根18米高的鋼柱安裝完畢,地上建築的施工正式啟動。
2014年4月29日,上海申迪集團擁有上海迪士尼樂園57%股權,迪士尼擁有43%股權。此番增資後,上述兩家股東對上海迪士尼樂園的投資總額增8億美元,至約55億美元,增資幅度17%。迪士尼方面稱,股東將按所持股份比例分擔新增投資,擴大投資不會產生第三方債務。
2016年4月26日,迪士尼小鎮和星願公園於當日起對公眾開放,商鋪於5月7日試運營;5月7日,上海迪士尼樂園進入內部運營測試階段,且僅對迪士尼演職人員及家屬和相關受邀人員開放,5月下旬啟動試運行。
2016年6月16日,上海迪士尼樂園由國務院副總理汪洋、中共上海市委書記韓正以及華特迪士尼公司董事長兼首席執行官羅伯特·艾格剪綵後正式開園迎賓。中共中央總書記兼國家主席習近平和美國總統歐巴馬在開幕儀式上分別致上賀詞和賀信。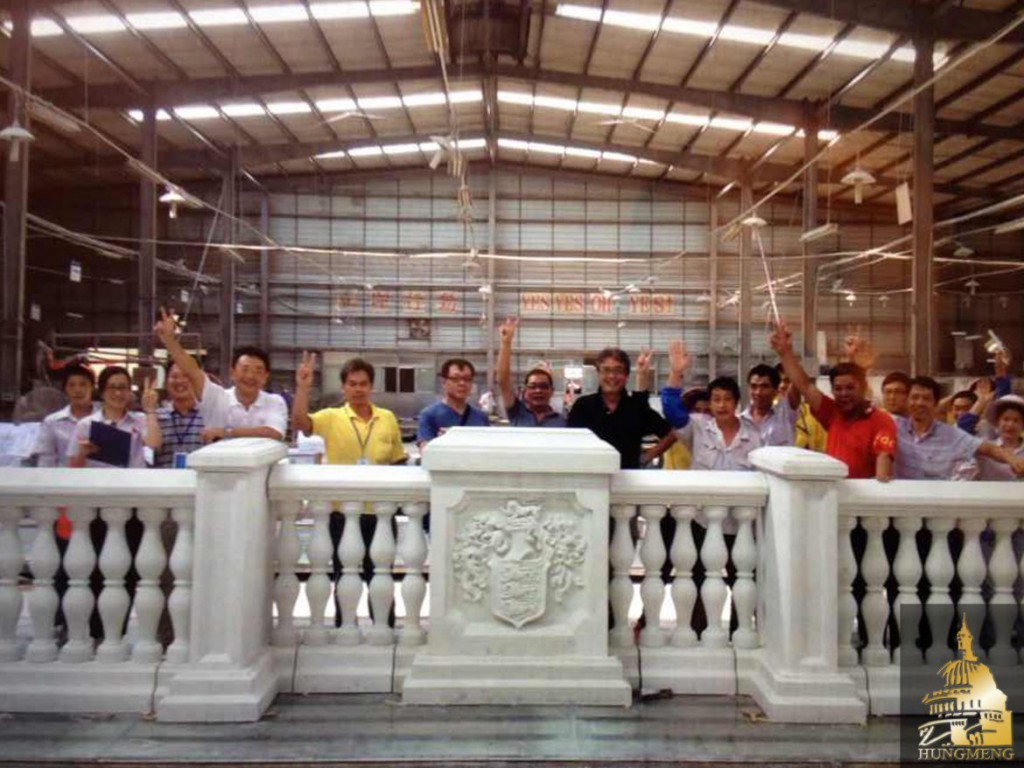 THE MAKING OF SHANGHAI DISNEYLAND | DISNEY
媒體報導 media reports from taiwan of tv
TVBS 特別報導
東森新聞 特別報導
關鍵時刻 特別報導
There so many differences article share:
https://www.laughingplace.com/w/articles/2016/06/20/shanghai-disneyland-rank/
http://disneyandmore.blogspot.tw/2015/10/shanghai-disneyland-mickey-avenue-high.html
http://disneyandmore.blogspot.tw/2015/08/shanghai-disneyland-tomorrowland-from_29.html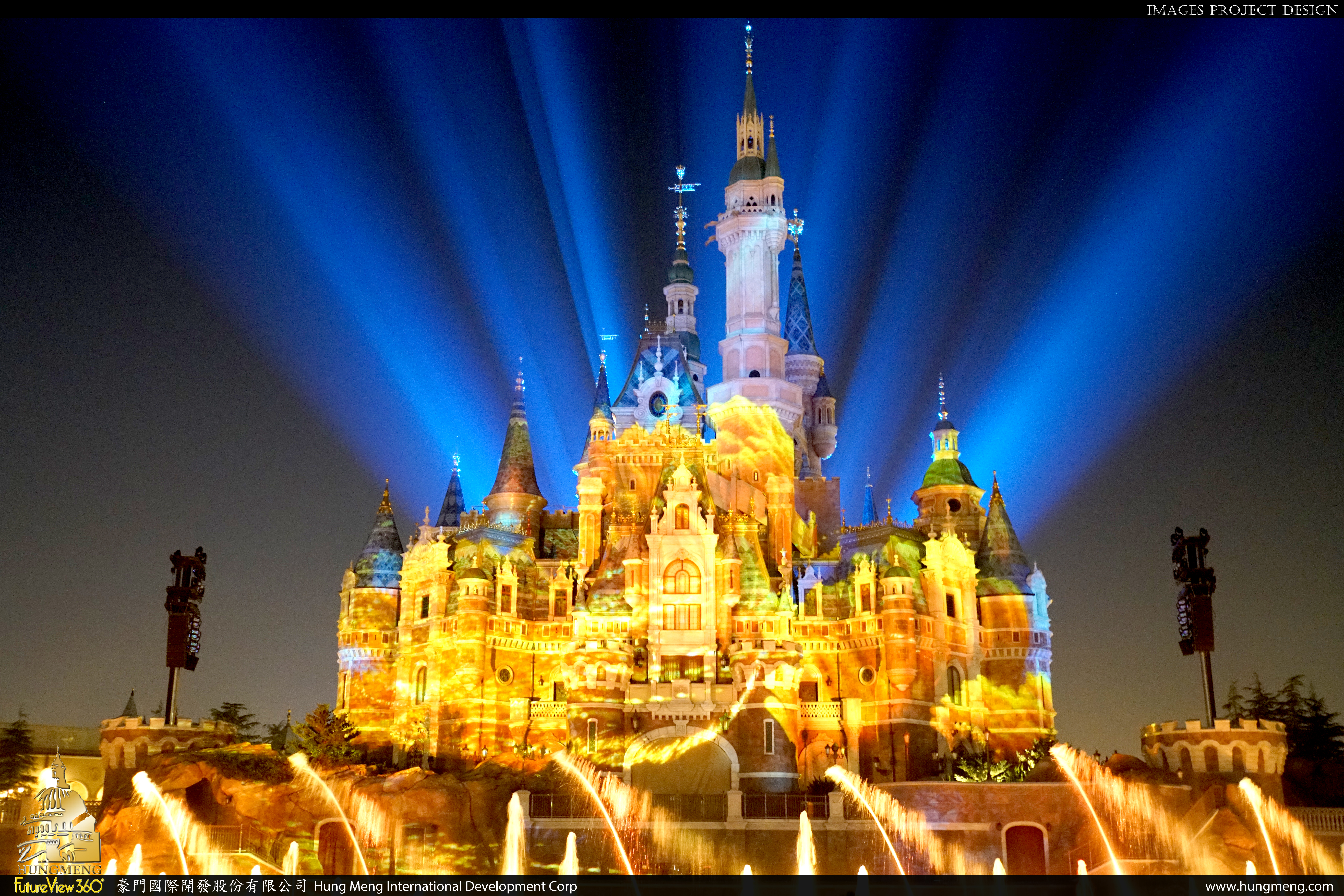 城堡結合燈光秀,GMRC 外立面建築裝飾
The castle is decorated with a light show and a GMRC facade.